The Art Without Boundaries Foundation has tax exempt status under Section 501(c)(3) of the Internal Revenue Code


TM
2005 Art Without Boundaries™ and MnemeTherapy™ are both trademarks with all rights reserved. You may not copy or reproduce anything from this website
without written permission from
AWBF


Art Without Boundaries Foundation, Inc.
Home Office: (Toll free) 866-938-6546


webmaster

In November of 2007 I was approached by a podiatrist
who had seen the improvements with Alzheimer's
patients in a local assisted living. As a result of the
amazing progress of her 10 year old autistic daughter,
we launched the ASD program.

John heard about the program and Ryan,* his 15 year
old son became our second success story.

Noell Hammer, founder, AWB

Session One


Parent reported pre-session behavior:


non-verbal (one or two word sentences)




short attention span




impulsive behavior




does not make eye contact




lack of social or emotional reciprocity




repetitive use of language




repetitive motor mannerisms



Here are the things I observed:


Very little eye contact. Looked away and closed his eyes


when we

sang.(see picture-

r

ight)



When presented with the butterfly catcher game, he


mimicked the

butterfly with the wrong hand, even with


several promptings



Would bounce the paintbrush, then forget and stroke


(short term

memory)



Post session


He completed the entire session without getting up



He made eye contact when we sang the exit song and


inserted most of

the words




Swinging was much more smooth and coordinated



After two tries, he formed a "net" rather than the butterfly


and caught it

with the correct hand



He said multiple word, complete sentences with


prompting.



Observations of following sessions:


Starting using multi-word sentences with prompting


Initiated session, remembered the song we used, and the


order of the process.




More eye contact and expression, more smiling



More complete words in the song, 90% accuracy rate for


word insert




Swinging much more coordinated and smooth



Catching the butterfly with net, rather than mimicking.
Confuses hands only occasionally, after session, could
switch and be the butterfly and call the hand (left/right)
This is a huge step and requires coordination of verbal


and movement.



Painting strokes more even, straighter, reaching both


sides




Longer attention span, greater concentration



Did not grab paint brushes, could request brush or paints
in a complete sentence when prompted: "May I have the


paint brush, please?"



Became quite adept at high five game and could call out
right/left and go at a very quick pace. Indication of faster


brain response



Parent report improvements in these areas:


verbal skills




attention span




eye contact




social or emotional reciprocity




repetitive use of language




spontaneous

make-believe play or social imitative play


appropriate to developmental level




repetitive motor mannerisms



Notes from following sessions:


His dad reported that last week Ryan spontaneously (meaning
without prompting) started telling stories about things he
remembers when he was younger in great detail. (this is a boy
who only said 1-2 word sentences a month ago.)



Today we worked on asking and answering questions
and sentence structure. It is very much like learning a


new language for him.



His eye contact is great and his attention span has


improved.



He inserts all the words to the song and he is so good at
the high five game it's no longer a challenge. (two weeks


ago he didn't know his right from left)




He reproduced complex free-form shapes exactly.




He repeated back the story we wrote about his picture.




He no longer covers his ears when planes go over



Here are other pages you can visit:


Ryan's Gallery

Cara's Gallery

Autistic Gallery

Autistic Resources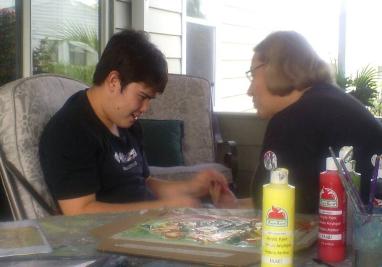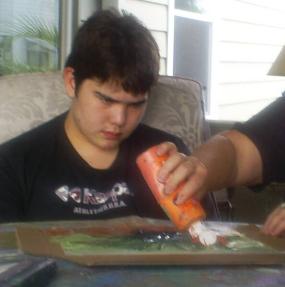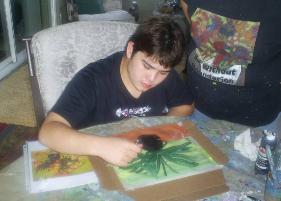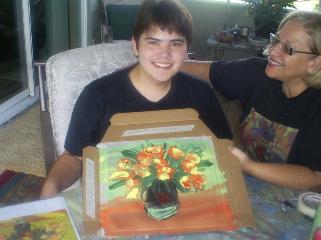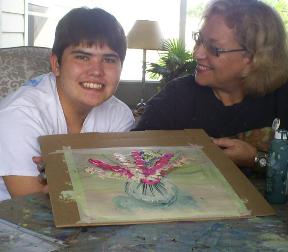 Photos used by permission
*Name has been changed by request